Nieporte's grand slam, Holton's 11 K's power FSU in 8-0 win over Samford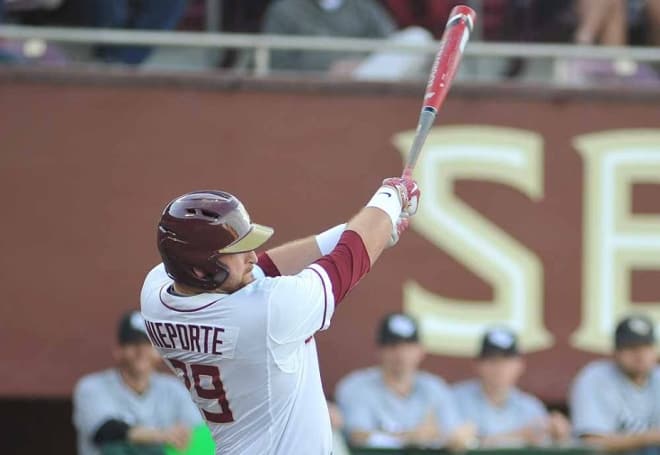 BOX SCORE: FLORIDA STATE 8, SAMFORD 0
----------------------
Quincy Nieporte's fifth-inning grand slam made the difference in the Florida State baseball team's 8-0 win over Samford on Saturday at Dick Howser.
FSU (4-2) took a 1-0 lead in the fifth off a RBI double from sophomore catcher Cal Raleigh. With Raleigh on second and Taylor Walls at third, Bulldogs pitcher Mikhail Cazenave intentionally walked Rhett Aplin to load the bases for Nieporte.
Nieporte, on a 1-0 count, connected on a fastball and hit a towering shot to left field for a 5-0 lead. It was Nieporte's second home run of the season and the second grand slam of his career.
The Seminoles were able to work Cazenave into another bases loaded situation with two outs in the bottom of the sixth. Nieporte pulled a pitch which Bulldogs third baseman Taylor Garris failed to corral and the Seminoles took a 6-0 lead. He would later collect another RBI in the eighth when FSU tacked on two more runs for a 8-0 lead.
Sophomore left-handed pitcher Tyler Holton moved to 2-0 on the season after buoying the team with a career-high 11 strikeouts. Holton's previous high was nine against Miami in last season's ACC Tournament.
He struck out the side in the second inning and added three more in the third. By the end of three, he already had seven. Samford applied some pressure in the top of the fourth when it had runners reach on a walk and a single.
Bulldogs shorstop Branden Fryman, who was the runner at second base, paid for having a large lead off the bag when he was picked off by Holton for the first out. Samford worked Holton for another walk but Holton ended the inning with two more strikeouts.
His 10th strikeout came in the top of the seventh when he froze Bulldogs right fielder Jordan Fucci on a 2-2 fastball on the inside corner. After Samford had a player reach on a walk, Holton's day ended when he struck out Troy Dixon to end the frame.

Holton, who went six innings in his last start, finished the day with by throwing 98 pitches only allowing two hits and three walks to go with his 11 strikeouts.
FSU, which opened the series with a 16-3 win on Friday, will seek a sweep at 1 p.m. Sunday
-----------------------------
Talk about this story with other FSU Baseball fans on the FSU Baseball Forum