No. 6 FSU suffers stunning blowout loss at Georgia Tech, 78-56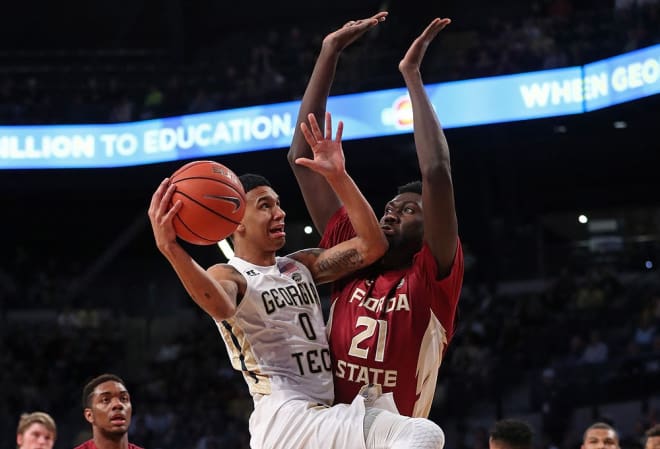 Box Score: Georgia Tech 78, FSU 56
ATLANTA -- The sixth-ranked Florida State men's basketball team hadn't endured a really poor performance through its first 20 games of the 2016-17 season.
Game number 21 was a different story.
The Seminoles fell behind right from the jump, trailed by 26 points at halftime and ended up falling to Georgia Tech, 78-56, at McCamish Pavilion.
The Seminoles struggled in all phases, allowing Yellow Jackets freshman Josh Okogie to score 35 points while going through a brutal offensive night of their own -- FSU shot 28.2 percent from the field and had only one player finish in double figures; that was sophomore Dwayne Bacon with 12.
FSU also was out-rebounded, 53-39.
With the loss, FSU falls to 18-3 overall and 6-2 in the ACC. Georgia Tech improves to 12-8 and 4-4. Florida State will next play Saturday at noon at Syracuse.
''We had tremendous energy, and then I don't think they had the energy to match us,'' Okogie said. ''We were just feeding off that.''
Few signs pointed to a meltdown for the Seminoles. They were tied for first place in the ACC and had gone 5-1 in their last six games, all against ranked opponents.

Florida State never trailed in a five-point win over Louisville last Saturday, but they fell behind so quickly that coach Leonard Hamilton cleared his bench early the first half, using all 13 players.
Bacon, the ACC's eighth-leading scorer, finished with 12 points on 4-for-15 shooting. Nobody else scored in double figures for the Seminoles.
''We couldn't make anything to save our lives,'' point guard Xavier Rathan-Mayes said. ''Nothing would go in for us from layups to dunks to free throws.''
Georgia Tech, which had lost 10 of 11 to Florida State, enjoyed its second home victory over a Top 10 opponent under first-year coach Josh Pastner.
The Yellow Jackets upset then-No. 9 North Carolina on Dec. 31, three days after barely escaping with a home win over North Carolina A&T. They also played then-No. 9 Louisville at home before losing, but returned with a win over a veteran Clemson team.
Last week, Georgia Tech lost by one point at Virginia Tech and by 13 at then-No. 16 Virginia.
The Seminoles had been dazzling before Wednesday, climbing to their highest ranking in The Associated Press poll since getting ranked No. 6 on Feb. 22, 1993. They had won 14 of 15 with losses only to North Carolina and then-No. 25 Temple.
Hamilton will have to get his team to move past this game quickly. He pulled his starters early in the first half as Florida State trailed 17-4, missing nine of its first 11 shots from the field with six fouls and two turnovers.
''I don't think we've shot like that ever,'' Terance Mann said. ''We've got to bounce back.''
The first half was a disaster as the Seminoles missed 29 of 35 shots and were 1 for 11 on 3-point attempts.
The Associated Press contributed to this report.