No. 6 FSU's rally comes up short in 82-72 loss to Syracuse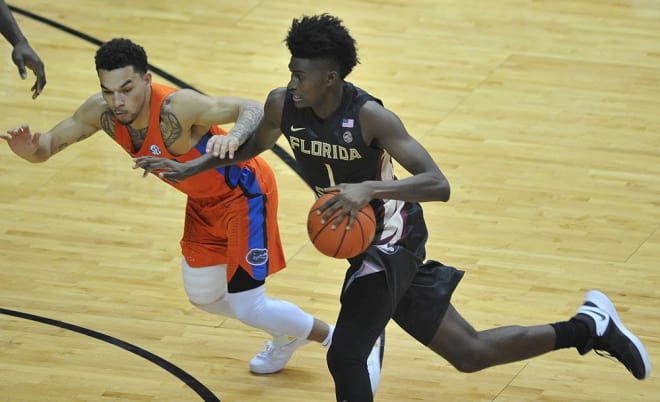 BOX SCORE: SYRACUSE 82, FLORIDA STATE 72
--------------------
Down by 18 at halftime, the No. 6 Florida State men's basketball team found itself down by two with less than two minutes left.
The Seminoles slowed their offense and in the process mounted an aggressive offensive comeback. Dwayne Bacon's 3-pointer brought the Seminoles within two points in the game's final one minute and 40 seconds.
Having made several shots to stay close, the Seminoles couldn't keep it going in an 82-72 loss to Syracuse (13-9, 5-4 ACC) on Saturday at the Carrier Dome in Syracuse, N.Y.
FSU (18-4, 6-3 Atlantic Coast Conference) has now lost back-to-back games for the first time this season, with all four of the team's losses coming either at a neutral site or on the road. This is also the Seminoles' second loss on their current three-game road trip. The Seminoles will end their stretch away from the Tucker Center on Wednesday at Miami.
After Bacon's 3-pointer, the Orange scored on the next possession for a four-point lead. A wild shot from Terance Mann under the basket led to Syracuse getting possession and a barrage of fouls and free throws beginning at 56.4 seconds left.
After falling behind at halftime, FSU roared to a 15-5 run in the first three minutes and 43 seconds. Isaac scored 10 straight points for the 'Noles to bring the lead to 49-35 with 17:29 left. Then back-to-back 3-pointers from Xavier Rathan-Mayes and Bacon trimmed the Orange's lead to 49-41 with 16:17 remaining.
Rathan-Mayes went up for a mid-range jumper but dished to Isaac in mid-air to bring the lead to 52-47 with 14 minutes left.
At 12:23, Rathan-Mayes hit a 3-pointer from the top of the key and the Orange lead was down to 3 at 54-51.
Bacon, with 9:02 left, hit another 3 and cut the lead to 60-58, the closest margin since the game's opening minutes. Bacon and Isaac each lead the Seminoles with 19 points while Rathan-Mayes scored 16.
Seminoles coach Leonard Hamilton, who has used a consistent rotation of 12 players, only used six players in the second half. While the move was contrary to what he's done all season, it boosted FSU's chances against Syracuse's zone.
Bacon drove to the rim, and his lay-up brought the Seminoles within two at 64-62 with 6:29 left. The Orange scored on their next trip, then a Seminoles turnover led to Syracuse's Andrew White hitting a 3-pointer to push the lead to 69-62 with 5:19 left.
Rathan-Mayes brought the lead to 69-65 when he drilled a long 3-pointer with 4:09 remaining, then FSU forced a shot clock violation on the following possession and Isaac returned to the free-throw line after being fouled on a shot attempt. He hit both free throws to make the lead two points with 3:15 left.
FSU's furious comeback attempt came on the heels on a second consecutive poor first-half performance. The Seminoles scored 15 points in the first half in a mid-week loss to Georgia Tech, and they had just 26 at Syracuse. FSU finished the first half with 11 turnovers to just 10 field goals.
The 11 first-half turnovers were a high figure considering the Seminoles entered Saturday averaging 12.4 turnovers per game. It was also a bit surprising given the Orange only force 13.5 turnovers, which ranks 172nd out of the nation's 374 Division-I programs.
--------------------------------
Talk about this story with other FSU basketball fans on the Seminole Hoops Talk message board