No. 9 FSU falls in 96-83 loss to No. 11 UNC; 'Noles streak ends at 12 wins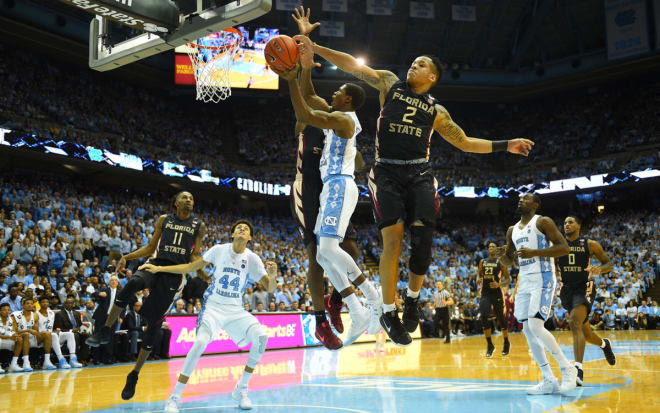 BOX SCORE: North Carolina 96, Florida State 83
-------------------------------
The No. 9 Florida State men's basketball team, which reeled off a school-record 12 wins, saw its streak end Saturday with a 96-83 loss to No. 11 North Carolina at the Dean E. Smith Center in Chapel Hill, N.C.
FSU (15-2, 4-1) fell into a nine-point hole early in the first half and were forced to play catch up for most the game. At one point, the Seminoles did hold the lead but failed to consistently fend off the Tar Heels (16-3, 4-1 ACC).
FSU did have an opening with UNC failing to record a field goal for more than five minutes with less than eight minutes remaining in the second half. The Seminoles cut it to three at 78-75 when sophomore swingman Dwayne Bacon scored on a lay-up with 6:14 left.
UNC held a four point with 4:43 left when FSU missed consecutive free throws only to have the Tar Heels score on a quick dunk in transition for a 84-74 lead.
Poor free throw shooting hindered FSU throughout the afternoon. A 70.7 percent free throw shooting team, the Seminoles were 12 of 26 for 46 percent. UNC also accounted for 28 second-chance points while out-rebounding FSU by 22.
Fouls were also an issue. The Seminoles had four players play the final eight minutes with four fouls.
Bacon led FSU with 18 points while freshman forward Jonathan Isaac scored 17.
FSU will host the No. 20 Notre Dame (16-2, 5-0) at 7 p.m. Wednesday. The Fighting Irish, which beat Virginia Tech on Saturday, is atop the ACC standings as the conference's lone undefeated team with the Tar Heels and Seminoles tied for second.
-------------------------------
Talk about this story with other FSU basketball fans on the Seminoles Hoops Talk board