Players confident offense can still be explosive in 2018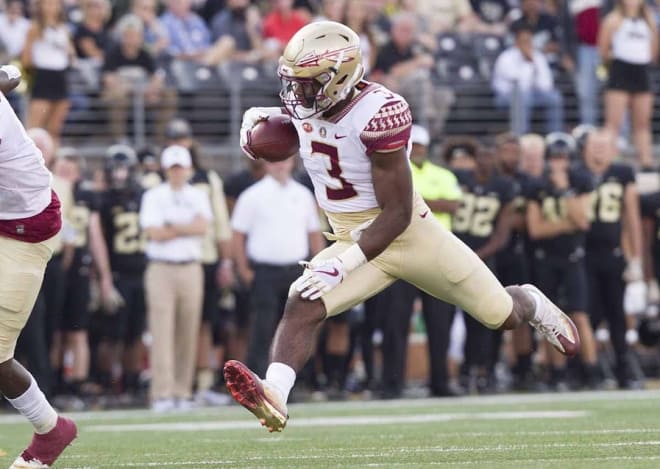 The plays are there.
That was the overriding message on Tuesday morning as Florida State offensive coordinator Walt Bell and several players met with the media.
After scoring just three points in the season opener and then struggling to score a touchdown in the second half against Samford, the FSU players seemed confident this can still be the offense they expected when the season began.
They just have to go make the plays that are there.
"It's going to come, we believe that," FSU running back Jacques Patrick said. "It just takes that one game to get the ball rolling. We've got to continue to hone in on things and it will get going."
They're hoping, of course, that they can build on their last drive of the Samford game, in which they marched down the field in the final minutes to take their first lead of the season.
On that drive, quarterback Deondre Francois threw his third touchdown of the game. He totaled four touchdowns on the night and drew praise from both head coach Willie Taggart and Bell.
"I'm just more comfortable with the offense, making quicker reads," Francois said. "The O-line was doing a better job, everybody doing their job."
It wasn't perfect, of course. How could it be when you need a last-minute touchdown to beat an FCS school? Francois did better on his reads, both Taggart and Bell said, but he still missed a few opportunities.
Bell said on the third-and-one play in which Francois threw out wide to D.J. Matthews for a one-yard loss could have been a touchdown if he had handed the ball off.
Bell also said that while the offensive line has definitely struggled, and that's putting it mildly, the running backs have had plays to make as well.
Starting tailback Cam Akers agreed, saying he's got to learn to be more patient when he gets the ball.
"Just trust everything," Akers said. "Trust the blocks and trust the scheme. And don't try to pound every run up in there, be a little more patient and let things develop. Just see everything. I saw that on film, like Coach said."
** Florida State vs. Samford review: Crunching the offensive numbers **
The growing pains were to be expected. Maybe not to this extent, but installing a new offense and then running at peak efficiency two games in was always going to be a challenge.
The offense, Bell said, made strides from Game 1 to Game 2. And that was in the same week. He feels like there will be a big step made this week as the Seminoles get a full six days to prepare for Syracuse.
"Again, this is a big change," Bell said. "If we can continue to just get better every week, better every rep, better every practice, better every period, I think moving forward you'll see the offense kind of take off. No fear. No worry. We've just got to keep getting better every day."
-------------------------
Talk about this story with other Florida State football fans in the Tribal Council