Seminoles look to show how far they've come since first tilt with Syracuse
It's a modest winning streak, but it still counts as one.
The Florida State men's basketball team won both of its home games this past week, knocking off two previously undefeated conference teams in Louisville and Miami. Now, the Seminoles will try to make it three in a row today at Syracuse.
FSU (9-5, 3-2 in the ACC) tips off against the Orange (8-8, 2-3) in the Carrier Dome at 3 p.m. on ESPN.
It's the second meeting between the two teams this season. The first came back in early December when FSU blew a double-digit lead and lost 63-60.
Florida State went 4-of-30 from 3-point range in that game.
"We didn't execute very well against their zone at all when we played them," FSU head coach Leonard Hamilton said. "Our cuts were slow, we didn't attack the gaps. What we had in the game plan, I'm not sure our guys executed it very well or understood what we needed to do.
"At that particular point, that was the first time we had played against a zone defense. And we played like we hadn't had any experience against a zone defense."
*** Don't miss our exclusive FSU sports coverage. 30-day Free Trial***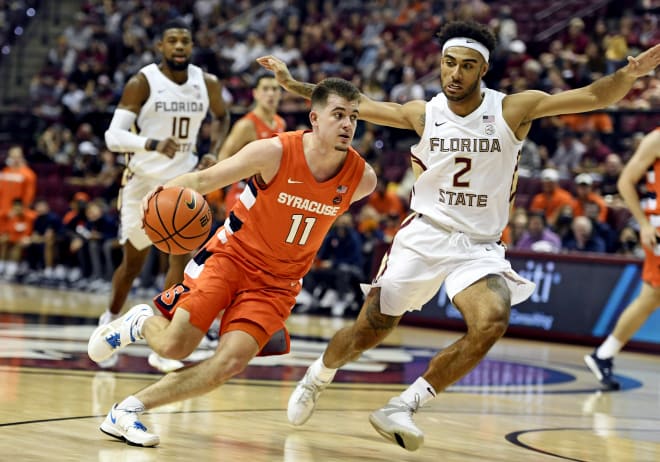 To that point, it wasn't like all of FSU's 30 3-point attempts in that first game were good looks. Many were contested. Some were desperate heaves near the end of the shot clock.
Some were open, sure. And they just missed.
But because the Seminoles didn't work the ball into the middle of the zone very much, there weren't a lot of kick-outs to wide-open shooters.
Hamilton is hopeful that will change this time around. His team is still young, but those players are a month more experienced than they were when they played the Orange the first time around.
"I think they know a little bit more about what type of system we normally use," Hamilton said. "Hopefully we'll be a little bit better now that we're more familiar with our offensive system."
They should definitely have a lot more confidence.
The Seminoles bounced back from last week's blowout loss to Wake Forest in Winston-Salem, N.C., to come back home and take care of business against two teams that were on top of the ACC standings.
They knocked off Louisville by nine points on Saturday night and then beat the rival Miami Hurricanes by a point thanks to RayQuan Evans' clutch free throws with 0.8 seconds left.
It wasn't the first half of the season FSU was hoping for. No doubt.
But a win on Saturday would put the 'Noles at 4-2 in the ACC and give them another critical road win in the conference. It would also set the stage for a big-time showdown with No. 8 Duke on Tuesday night at the Tucker Center.
"I see the light coming on a little more with our guys," Hamilton said. "Their body language, they don't look as stressed as they have been. I see us getting better. But now, we've got to go on the road against a team we really didn't execute very well at all against earlier in the year ... and see if we can get us another road victory.
"And we know road victories are very hard to come by in the ACC.
----------------------------------------------------
Talk about this story with other Florida State fans in the Tribal Council