FSU offensive tackle Josh Ball suspended by university panel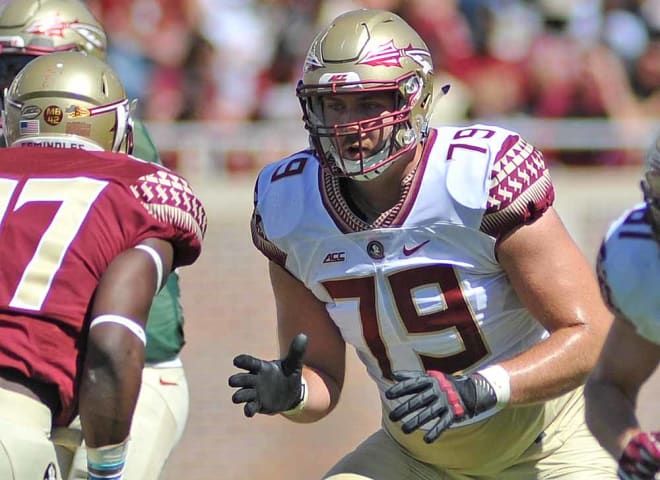 Florida State offensive lineman Josh Ball, who started the last nine games of his redshirt freshman season at left tackle, has been suspended from FSU following a ruling by a university judicial panel, Warchant.com has learned.
Ball was expected to start on the Seminoles' offensive line again in 2018, but there has been speculation about his future in recent months following allegations that he was violent toward an ex-girlfriend and others.
It was not clear Tuesday morning the length of the suspension or whether Ball has any recourse to appeal the university decision. FSU's athletics department has not responded to a request for comment.
Clark column: No. 13? No. 24? How can anyone project this FSU team?
Sandra Sellers, a Florida State University student who says she dated Ball for approximately 18 months, came forward with the charges this past fall when she filed paperwork seeking "protection against dating violence" in Leon County.
In that document, which was filed in late September but wasn't reported by the media until early November, Sellers alleged that Ball physically attacked her on numerous occasions. She said Ball slapped her in the face in December 2016, shoved her to the floor in March 2017, and repeatedly shoved and grabbed her in an April 2017 incident that ultimately left her with a cut and blood on her knee.
Sellers also stated that she witnessed other incidents in which Ball was violent with others and a danger to himself; she accused him of harassment as well.
Ball was not charged by the Tallahassee Police or the state attorney's office following Sellers' complaint, but his university suspension appears to stem from that case.
Sellers posted a screen shot of the FSU ruling on social media on Monday evening, along with a message celebrating the closure "of this chapter of my life for good."
"This long journey has finally come to an end! After two long days of testifying and two agonizing weeks of waiting for this letter, it's finally here," Sellers wrote. "Thank you FSU for making campus a better place."
Sellers finished the note by saying she was excited about, "being able to enjoy football season, and not seeing him on the field!"
If Ball is indeed out for the 2018 season, the Seminoles will have to break in two new offensive tackles for the season opener against Virginia Tech on Labor Day night. The Seminoles already were going to be without starting right tackle Rick Leonard, who graduated and was selected in the fourth round of the NFL Draft.
The three most likely options to start at tackle are redshirt sophomore Jauan Williams, redshirt sophomore Mike Arnold and redshirt senior Derrick Kelly. Williams and Arnold have mostly seen practice time at the position, while Kelly is the only one who has seen extensive game action.
Stay connected to Warchant.com for more on this story.
------------------------------------------------
Talk about this story with other Florida State football fans in the Tribal Council