Warchant Top 40: Offensive linemen dominate picks No. 16 through No. 20
It's time to look ahead to the 2022 Florida State football season with Warchant's annual list of the Top 40 players on the Seminoles' roster -- the players we expect to make the biggest impact for FSU this fall. (Note: This is not necessarily the 40 most talented players, but the players we believe will have the opportunity and capability to make the biggest impact this season.)
The list was compiled through voting by Warchant's Gene Williams, Ira Schoffel, Corey Clark, Jeff Cameron, Aslan Hajivandi, Tom Lang and Austin Cox.
The Top 40 will be revealed in segments, continuing today with players No. 16-20. Here are the previous segments that have already been published:
Stay connected to all of your favorite FSU Sports Coverage!
*** Get the FREE Warchant App in the Apple Store or on Google Play
*** Subscribe to our YouTube Channel for fresh new videos every day
*** Sign up for our exclusive Newsletter to never miss important FSU news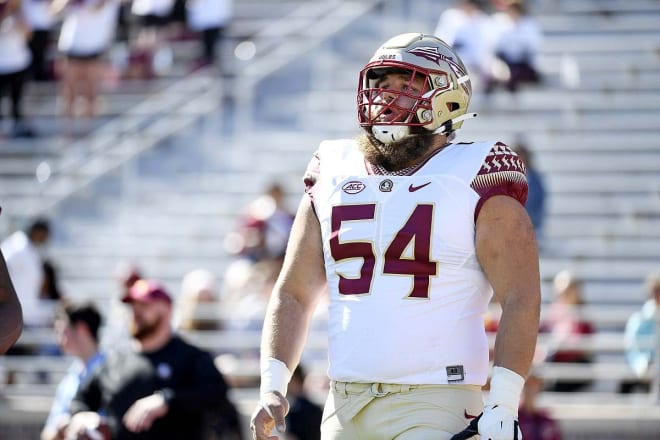 No. 20 -- Redshirt senior offensive lineman Kayden Lyles
The Wisconsin center transfer is one of the most intriguing new players on Florida State's roster. After playing in 34 games, including 16 starts, during his time with the Badgers, Lyles would seem to be a likely starter on Florida State's offensive line. But he first will have to beat out returning starter Maurice Smith. If Lyles is unable to do that, there's also a chance he could win the starting right guard position (Dillan Gibbons has left guard locked down). And if he can't do that, then he could be a valuable veteran who backs up multiple positions. One way or the other, the 6-foot-3, 321-pounder will be a big part of the Seminoles' plans up front. He has too much experience and size to not be a factor.
Individual rankings: Gene (27), Ira (21), Corey (26), Jeff (21), Aslan (13), Tom (21), Austin (18).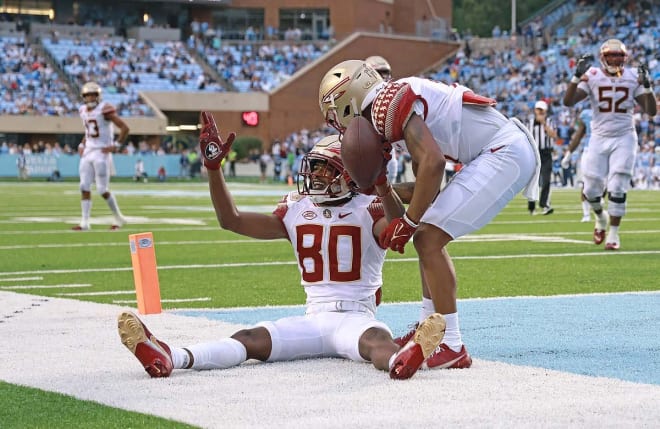 No. 19 -- Redshirt senior receiver Ontaria 'Pokey' Wilson
A steady contributor in the Seminoles' receiving corps going back to 2019, Wilson enters his final year at FSU with over 1,000 career receiving yards to his name. Formerly a three-star cornerback signee in 2017, Wilson is one of the last players remaining on the roster from the Jimbo Fisher era -- two coaching regimes ago. While not flashy by any means, Wilson has been consistent, topping 20 catches the past three seasons and posting a career-best five touchdowns last season. Wilson posted strong outings in wins against North Carolina and Boston College in the second half of last season. Unless he is overtaken by transfers, the sixth-year senior figures to have a spot in the starting rotation for the 'Noles.
Individual rankings: Gene (25), Ira (24), Corey (15), Jeff (14), Aslan (15), Tom (26), Austin (28).
No. 18 -- Redshirt sophomore offensive lineman Darius Washington
Though he is listed as a redshirt sophomore, Washington actually is entering his fourth season at Florida State. He has started 20 games over the past three seasons -- at both left tackle and right tackle -- but he will have more competition than ever this season. With the Seminoles bringing in three transfers who can play tackle -- Jazston Turnetine from South Carolina, D'Mitri Emmanuel from Charlotte and Bless Harris from Lamar -- Washington will have to either beat them out or make the move to guard and win that job. He has worked at all five OL positions during his time at FSU, so if he isn't in the starting lineup, Washington also would be a major asset off the bench.
Individual rankings: Gene (16), Ira (33), Corey (13), Jeff (24), Aslan (30), Tom (20), Austin (10).
No. 17 -- Redshirt junior offensive lineman Bless Harris
After transferring in from Lamar University, an FCS school in Texas, Harris quickly established himself as a potential starter at right tackle during spring practice. While still raw and getting used to the level of competition, Harris possesses great size at 6-5, 315, and he was a tough matchup for FSU's defensive ends. There won't be an easy path to the starting job, however. As mentioned above, Darius Washington is a returning starter at right tackle, and the Seminoles brought in two more tackle transfers with starting experience.
Individual rankings: Gene (24), Ira (20), Corey (24), Jeff (23), Aslan (11), Tom (17), Austin (23).
No. 16 -- Redshirt sophomore defensive end Derrick McLendon
A new jersey number for McLendon this fall may come with a new starting role. A key reserve the past two seasons who played in all 21 contests, McLendon has shown flashes of being a solid pass-rusher. Then this spring, he was outspoken about his desire to emerge not only as a starter but as a top player on the defense in 2022. Last year, the rush end had 16 tackles and 3.5 sacks as the top option off the bench behind ACC Defensive Player of the Year Jermaine Johnson and senior Keir Thomas. Now that both transfer acquisitions have graduated, McLendon could be penciled in as one of the starting defensive ends this fall.
Individual rankings: Gene (20), Ira (19), Corey (19), Jeff (13), Aslan (21), Tom (16), Austin (9).