Head or Heart? 5-star Knox, family weigh FSU love vs. basketball royalty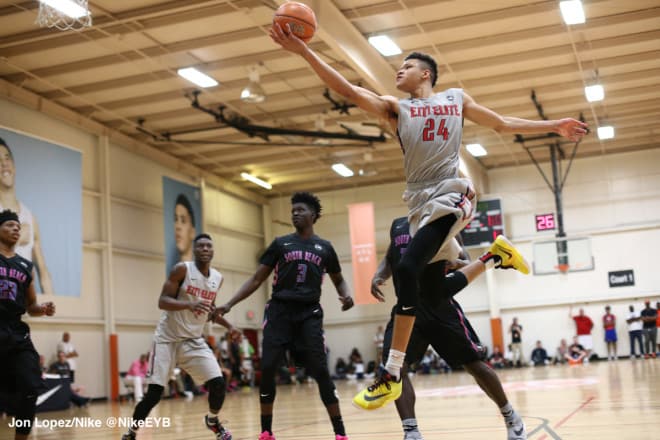 Kevin Knox seemingly has nothing but positive memories about his years at Florida State.
The former Seminole star wide receiver, who caught more than 100 passes from 1990-93, says he loved legendary head coach Bobby Bowden as if he was his "granddad." Knox enjoyed tremendous success on the field, winning a national championship as a senior, finishing his career as one of the top receivers in school history and accomplishing his longtime dream of being selected in the NFL Draft.
FSU also is where he met his wife, Michelle. And their love of the university has never waned.
While raising their four children in Tampa, Kevin and Michelle have made it clear that only one school is near and dear to their hearts -- their alma mater in Tallahassee.
"Absolutely. They had no choice," Kevin says, almost incredulously, when asked if his children were raised to be Seminoles. "When your mom and dad went to Florida State, what other college could you really support? We're not wearing Florida gear or Miami gear out here."
For years, Kevin and Michelle dreamed of their children attending Florida State like they did. And when oldest son Kevin started excelling on the football field as a youth, they hoped he might one day play on the same Doak Campbell Stadium grass where his father starred nearly 25 years earlier.
That, however, was a few years, several inches and a slew of college basketball scholarship offers ago.
These days, the Knox family features one of the most sought-after basketball recruits in the country. The younger Kevin Knox, who now stands around 6-foot-9 and 205 pounds and stars at Tampa Catholic, is rated a five-star prospect by Rivals and the No. 9 player in the Class of 2017.
Like current FSU freshman Jonathan Isaac, he is a shooting guard in a forward's body. And the family believes he could grow to be 6-10 or 6-11.
He has been courted by every college basketball power you can imagine. Among his four finalists are Duke, Kentucky and North Carolina -- three of the four winningest programs in college basketball history.
His fourth finalist? The Florida State Seminoles.
If it's not entirely a matter of head vs. heart, it's close.
"At times, growing up as a Florida State fanatic and just loving the Seminoles, I think it is difficult," the older Kevin says. "Because I think all parents who graduate from a college, they want their kids to go to that school. However, when your kid is as highly coveted as ours is, I think you have to look at it a little bit more holistically and say, 'What does he want?'
"For selfish reasons, you could want all of your kids to go to Florida State. But at the end of the day, he has to make his own decision. He's got to make his own bed, and he's got to sleep in it."
This weekend could loom large in that decision-making process. The younger Kevin already took an official visit to Duke in October, and he will make trips to Kentucky on Jan. 28 and North Carolina on Feb. 4. Today through Monday, the 17-year-old and his parents will make an official visit to Florida State.
It's certainly not an unfamiliar trip. The family has been coming back to Tallahassee for years to watch spring games and other events. All four of Kevin and Michelle's children -- Kevin, 14-year-old Kobe, 11-year-old Karter and 8-year-old Ashley – have been to FSU on numerous occasions.
"Not often, often … but enough that they know the campus," the older Kevin says.
But this trip will be different. While the entire Knox family bleeds garnet and gold, they are treating Kevin's college choice as a business decision.
They have a list of bullet points that they will evaluate at each university. Some of the criteria are objective, and others are subjective. They include everything from offensive and defensive systems to the roster moves that are expected at the end of this season to the overall "feel" of the program.
"Does it feel like home to you?" the older Kevin explains. "Are you comfortable? Or do you feel like a stranger? He has to feel very comfortable. …
"We're going to look at each school and check the boxes."
* Also See: FSU's Fisher making another run at a top-five football class
Truth be told, it's not unlike the older Kevin's approach coming out of Niceville High School. Although much has changed about the recruiting process since then -- with recruiting services and fans and coaches on social media following the younger Kevin's every move -- the decision-making process will be fairly similar.
First, there will be the business aspect.
"Coach Bowden said, 'I know you,'" the older Kevin recalled. "'You like the glitz and the glamour. We're gonna be on TV four times a year.' And at that time, Georgia, Alabama and some of those other teams weren't on TV as much. To have that type of exposure -- I wanted to play for the NFL."
And then there will be the emotional.
"I felt good with Coach Bobby Bowden. That's like my granddad," the older Kevin said. "He also did a great job with my parents. Made them feel comfortable. You know that overall feel box? That was checked twice. It was home. … They were having fun, they were playing fast, they were getting exposure, and they were winning. It was a great combination for a kid coming out of high school at the time. That's why I picked Florida State, and I never looked back."
The major difference this time is FSU can't offer greater exposure than the other finalists. The Seminoles have played for one national championship in school history, and that was 45 years ago.
Kentucky has won eight national titles, with the most recent coming in 2012. Duke and UNC have each won five, with the Blue Devils' last coming in 2015 and the Tar Heels' in 2009.
And as much as Michelle and Kevin both value their Florida State educations -- she is a social worker with Hillsborough County Schools and he oversees youth sports for the Tampa Housing Authority -- they know it's highly unlikely that the younger Kevin will stay in college for a full four years. Most draft experts project him to be a one-and-done NBA prospect.
"It's not a secret," the older Kevin says. "My son likes to win. We work extremely hard, and I think that he wants to play for a winner. When you talk about Duke, when you talk about North Carolina, when you talk about Kentucky … those are already established winning programs. Florida State is different. They kind of go in spurts. You go back to Charlie Ward and those guys, and then all of a sudden it kind of died down. And then it came back and then died down. Then next thing you know they won the ACC title, then it died down.
"That's something we did convey to Leonard Hamilton: 'Hey look, Kevin wants to play for a winner.'"
The good news for Florida State is that the Seminoles are indeed winning again.
Powered by emerging superstar Dwayne Bacon, another likely one-and-done prospect in Jonathan Isaac and a deep and talented roster, FSU is currently 14-1 on the season and ranked No. 12 in the latest AP Top 25. The Seminoles have played two ranked opponents this season – Florida and Virginia – and beat them both.
"We just spoke the other day, and he kind of reminded me of that," the older Knox said with a laugh. "And I said, 'Coach, you lived up to your part of the bargain.' But that's not to say we're gonna all of the sudden commit, just because you're in the top 25. But if you weren't winning, you'd be off the list."
For now, at least, the Seminoles will have to be content in knowing they are firmly in the final four. And as important as this weekend will be, it's unlikely that the family will walk away with a decision made.
The plan right now is to not only take these four official visits, but for the family to pay their own way for four follow-up unofficial visits. "We're gonna double-up," the older Kevin says.
Then after all the boxes have been checked, they expect to make a decision during the first two weeks of March. A process that began with an offer from Memphis when the younger Kevin was just a high school freshman will finally come to an end.
"It's actually been fun," the older Kevin says. "And I think with me having gone through the recruiting process, I've been able to reflect on how my parents handled it – the good, the bad – so you get a good feel for that. And I've been able to apply that to my own son. So I think it's been a really good process for him.
"When we make this decision, we're going to definitely know where he wants to go to school."