TV industry analyst: ACC Network will be bigger success than expected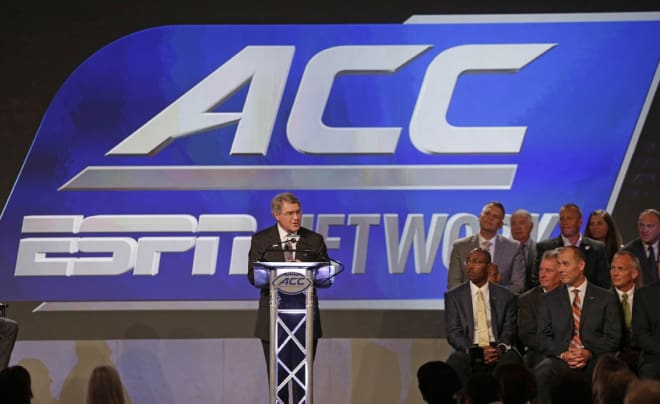 For quite some time, Sport Business Journal media reporter John Ourand has been one of many industry experts expressing doubt about the potential for the Atlantic Coast Conference's planned linear television network.
Ourand believed that ESPN would have a difficult time convincing national and regional cable providers to carry the network, citing the high carriage rates ESPN already is collecting and the financial losses being absorbed throughout the industry due to "cord-cutting."
That was then. This is now.
On a podcast posted Thursday by sports media reporter Richard Deitsch of The Athletic, Ourand was asked for an update on the network and its expected launch on Aug. 22, 2019. And Ourand actually sounded bullish on the network's chances, citing deals that ESPN's parent company, Disney, has orchestrated with cable providers Verizon Fios and Altice.
"If you had asked me this one year ago, I would have said it's doomed for failure," Ourand said on the podcast, which can be found on iTunes and other podcast providers. "But one year on, they have deals with Altice in New York, which is hardly an ACC hotbed. They have a deal with Verizon, which is a national deal. ...
"It's not going to be the start that SEC Network was, where everybody had to have it when it launched. But it's going to be pretty successful when it launches. You can already see the road map for that."
Although Altice is not a national provider, it serves such a dense population base -- New York, New Jersey and Connecticut -- that it reportedly is the country's fourth-largest carrier. That deal was the ACC's first, and it was followed by a pact with Verizon in late December.
The ACC and ESPN, with the help of Disney, still need to work out deals with numerous other carriers, but Ourand said he would no longer bet against them.
"The first time that they have like a Clemson football game on there that people can't see, then you'll start to see that ramp up, too," he said. "I was very bearish on them about a year ago ... I've now turned 180 degrees on what my prognosis of what the ACC Network was going to be."
What isn't yet known is how much actual revenue will be generated by the network. The Big Ten Network and SEC Network have both been extremely successful and drive millions of dollars to each member school each year, while the Pac-12 Network has been panned as a financial dud.
The primary difference between the three is that the SEC and Big Ten channels are a result of partnerships with ESPN and Fox, respectively, while the Pac-12 tried to go it alone and has seen very limited viewership so far.
Florida State athletics director David Coburn told Warchant last week that he expects the ACC schools to start seeing a bump in revenue from the network in the next year, with money improving "steadily" from there.
The Seminoles are among many conference members who could greatly use the additional income; Coburn confirmed to Warchant that FSU operated at a $3.6 million deficit in 2017-18 and will see similar results in 2018-19 and 2019-20.
ALSO SEE:
* Florida State sees financial crunch, but Coburn sees light at end of tunnel
* FSU takes multi-pronged approach to reviving season ticket sales
-------------
Talk about this story with other Florida State football fans in the Tribal Council