Q&A with new FSU linebacker commit DeMarco Ward
The Florida State Seminoles got even more good news on Tuesday when Duluth, Ga., three-star linebacker DeMarco Ward announced on social media that he has committed to the 'Noles.
After announcing his decision, Ward was gracious enough to spend time with Warchant.com to give a detailed breakdown of his commitment and the entire recruiting process that led to him choosing the Seminoles.
Stay connected to all of your favorite FSU Sports Coverage!
*** Get the FREE Warchant App in the Apple Store or on Google Play
*** Subscribe to our YouTube Channel for fresh new videos every day
*** Sign up for our exclusive Newsletter to never miss important FSU news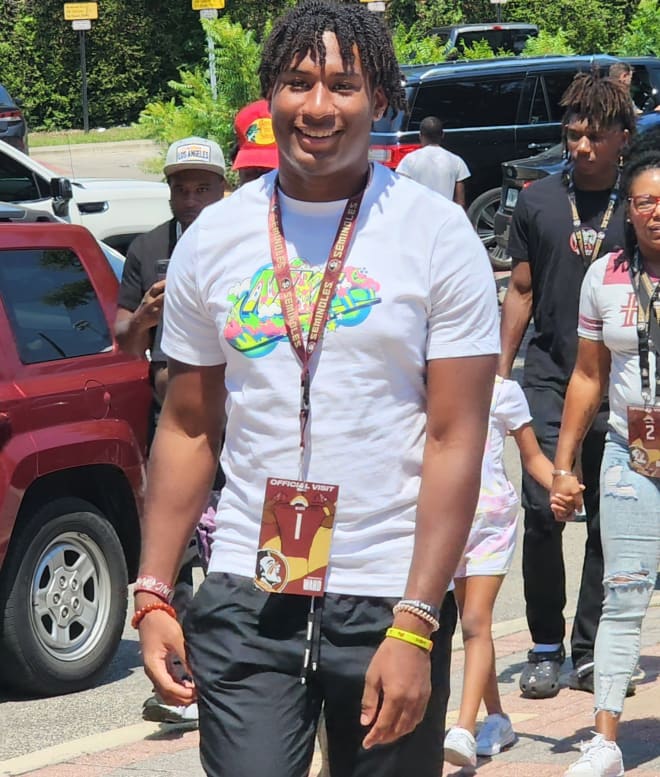 Q: So let's kick this thing off, DeMarco. Tell me how you are feeling right now after announcing your commitment earlier today and selecting the Seminoles? What were some of the reasons why you picked FSU?
A: It feels pretty good. I'm super excited. I would say what won me over was probably the family environment that they had. Also, all the things they are trying to do to build the program was something that I loved and felt a strong feeling about. As I said before, when I committed, seeing their excitement on the decision was big to me.
Q: With the decision done, let's talk more about FSU linebackers coach Randy Shannon. How long has he been recruiting you? And what did you like so much about him?
A: It's been a while, so I might not be sure on the exact date. With Coach Shannon, I really liked how he treated me like I was one of the players on the team. He would tell me exactly what he expects from me straightforward. He didn't sugarcoat or hide anything, and that meant a lot to me as a person and a player. Everything was very genuine from the start.
Q: Making sure I get this right on your stats and measurables ... you are 6-foot-2 and 217 pounds. And last year you had over 60 solo tackles with three sacks and two or three interceptions. So with that out of the way, let's talk about when you told the staff you were coming and made a commitment to them?
A: Yes, that is correct on the stats and weight. On the commitment, I told them right after my visit [last weekend]. When I talked it over with my family and made the decision, Coach Shannon and Coach Norvell (head coach Mike Norvell) were both super excited. I know Coach Shannon, when I called him, he wanted me to call Coach Norvell right away. He was really welcoming me to the family. That also made it even more exciting, seeing how excited they were about me being apart of the family.
Q: Are you going to be an early enrollee to FSU? If so, what are the advantages of that?
A: Yes sir, I plan on enrolling early more than likely. I'm graduating early. It's big because I can already start working with the players, defense and be around a lot of my teammates. Because I don't know a lot of the guys yet that well personally. Just speeds things up for you in getting comfortable with everything. Helps me get used to the college life as well. All the players when I was on the visit were really good, but I just want to get to know them better.
Q: FSU also went up to see you practice during the spring evaluation period, DeMarco. How important do you think that visit was?
A: They come over there in May when we were in a full-pad practice. It told me at that time they really want to see how I play and look as a player. Then also picturing me in what I would look like in their defense. So that was pretty important to me that they came out there.
Q: After your official visit, we talked a lot about what happened on the visit. But how did your family feel about it?
A: My dad really loved it. Everything. From the meetings to how genuine the coaches were to really everything in seeing it so up close. My whole family really liked it a lot too. I know with my dad, when I told him I was going to commit there, he was really excited.
Q: So what positions have you played in high school and where do they see you lining up in Florida State's defense? Also, what are some of your strengths and weaknesses?
A: I started off at middle linebacker when I got there as a freshman. Then through the years of being there, I switched to strongside linebacker to weakside linebacker. I don't really have a preference. With FSU, I feel I will likely play the outside linebacker position.
I think what I would do well right now would be how I read what the offense is going to do. When I see the play, I kind of know in my head what they are trying to do and picture what they are doing. I've also been fast, so that's another area. I would also say I've done a good job at getting off blocks. I have long arms, so I can get off blocks very well with my length. Before I came to high school I played mostly offense, so I think I might play some offense this year as well.
Then on the area I want to get better, I would say my man coverage. In games, they will have me in coverage on the tight end and depending on what we do with our defense I might have to cover some slot receivers this year. So I want to work on that coverage. I'm trying to start working with my DB coach to understand the mechanics of it in coverage so it becomes more natural for me.
Q: What kind of competition have you gone up against so far in high school, and how that has prepared you for college at Florida State?
A: We changed a couple of teams. But every year, we play Norcross, Archer, Dunwoody and Mill Creek for the most part. So every week, a lot of these teams have that one special player. Like with Norcross, they have [tight end] Lawson Luckie. Sometimes the game plan would be me covering Lawson if he goes out wide, so that prepares you for what you are going to see in college -- going against the best in my age group.
Q: What were some of the other schools recruiting you or showing interest?
A: Some were showing interest but hadn't offered. I would say Georgia Tech, North Carolina and Arkansas were the main ones.
-----------------
Don't miss out on our exclusive podcasts! Subscribe Today!
*** Wake Up Warchant -- Apple | Google
*** Seminole Headlines -- Apple | Google
*** The Jeff Cameron Show -- Apple | Google
Or just search for "Warchant" on your favorite podcast provider.
-------------------------------------------------------
Get the latest info, insider content and chat with FSU fans on the Premium Recruiting Board